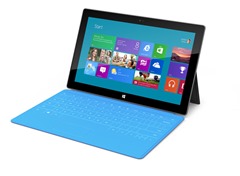 Today I brought Microsoft Surface with Windows RT from Microsoft store in Valley Fair mall, Santa Clara, CA. As everyone wrote elsewhere, surprised to see more crowd in Microsoft store than in apple store as lot of people are trying to check Windows8 and Surface tablets along with new touch enabled windows8 laptops, all-in-one desktops, etc..
Honestly, I didn't had any expectations on Surface RT version, rather was waiting for pro version due to it's large app compatibility with existing windows. But after reading few quick reviews (Forbes, Seeing Alpha, CNET, gizmodo, engadget, wired) brought one with touch cover bundle ($599 + tax). They had 3 models to choose with varying touch keyboard colors.
For last few months I was using Windows8 (multiple devices, non touch based, even though my primary laptop is MacBook air), it only took few minutes to get started with surface comfortably except new touch gestures; which took a while to get used to it. Here is a good overview on getting started with surface.
As am a big apple fan (brought every iPhone and iPad on day-1 of its release and also own Kindle Fire); to my surprise, surface surpassed all my expectations and it's far far better than the first generation of iPad (or even 2/3rd generation in its own way). Big bow to Windows8 & Surface team  who spent tireless days in getting this to consumers.
What I liked in surface:
Design and sturdy build quality (it does not look like copied from other tablets, don't look cheap, and no need to worry about scratches or external covers to protect the device, you can feel the device when you use it directly)

Windows8 touch, tile concept, basic app modeling, integration

Familiar windows operating system & full-fledged OS in tablet

Seamless integration with single sign-on (Microsoft account)

True multi tasking with side-by-side (you can watch a live match and still write code in eclipse, participate in a video conference & still do other things side by side)

Free Office 2013 (home and student 2013 RT preview version, updates are free)

Every PC user, will be more comfortable with this device as it takes notebooks into next generation or it bridges the gap between tablet and notebook by having uniform Windows platform

Tile apps getting the all updates instantly (email, news, changes etc.) and you can preview them without even opening

User accounts, same device can be used by multiple users with different accounts (same old windows user account concept); now I can safely hand over my surface to my 7 year kid with child account created and nothing to worry about his in-app purchases, content rating etc. (I had too many calls with apple on accidental in-app purchases in last 2 years or so); this is going to be a big relief for family users
More than all these, after I got the surface to home, almost all my existing devices that I use on day-to-day started working with surface without requiring any further install or adapters like USB keyboard/mouse, USB hub, apple Bluetooth keyboard & mouse, connecting to Samsung TV or to 27" Dell monitor through HDMI, Playing music/video/picture from surface to TV over DLNA.
With this, Microsoft has set the expectations on how a consumer operating system should look like, and how a device like surface can compliment the operating system (or vice versa) by targeting both enterprise and consumer users. I wont be surprised if most of the business users /executives will be seen with surface in coming days on all meetings, presentations, etc. (without a need for additional laptop or ultrabook) and more than that, IT can still control these devices without any extra effort.
We are going to see flood of windows8 touch based devices (monitors, all-in-one desktops, laptops, ultra-books, tablets) hitting the market like a storm from biggies like Dell, HP, Lenovo, Asus, Samsung, Sony, Toshiba, etc. and few are already in Microsoft Store.
Surface Gallery:
| | | |
| --- | --- | --- |
| Multi tasking | Video to TV | VPN |
| Xbox Smartglass | Search | Mp3 to TV |
| Surface info | Connected to TV | Crowd at the store |
What could have been better:
You can't easily close a running application (need to use touch keyboard short-cut Windows + Fn + play/pause<F4>); even though they claim you don't need to close any application (update: there is a touch shortcut by dragging from top bottom)

No direct menu or right mouse options (for settings one need to use right panel swipe) (update: you need to use two finger click to get right mouse)

In windows explorer, the backward, forward and window icons (close or maximize) are too small for touch, need this to be updated to bigger size; the whole ribbon has to match to that of app model.

Randomly the touch cover looses its connectivity, needs a disconnect and connect back (whenever you move the tablet)

I wish they had mini-display port instead of Surface specific HD digital adapter, and even Google Nexus comes with same mini HDMI port.

Little pricier, even though its worth (as you get full-fledged OS, office, tablet)

Lack of popular apps like Twitter, Facebook, Yelp etc.

I couldn't find a way to copy files from SkyDrive to local storage (only upload or direct access to existing files are allowed) (update: two finger click)

Lack of "all inboxes" view in mail application

Audio quality is not up to the mark; and not impressed

Lack of any built-in cellular network choices, even though you can use USB based external devices

No proper documentation or features explained any where including on main surface web page

First time user setup (first boot), it took close to 3-4 minutes; which is too slow by any standards. Looks like it took its own sweet time in setting the user profile.
Ecosystem:
Without any further question, we are going to see lot of developers and companies spend their efforts to have Windows 8/RT centric applications in coming days, which is the key for both ends; and Microsoft won't leave any stone open as they already planned windows build conference. If one missed an opportunity in apple's app market space, here is a good chance to hit back and take a lead
Final note:
Even though at present too many players are in the tablet market, but surface is different; and more than that it really helps or targets engineers and enterprise users from day-1 and has an edge over its competition. As every enterprise company try their best efforts to make the engineers feel Work + Life balance; and surface brings Work + Entertainment balance to your life.