Here is my installation experience and quick overview of Microsoft Vista aka codename Longhorn October CTP build 5231. You can also find the screenshots.
Installation
As usual the installation was clean and done in 2-3 steps that is needed during the initial setup. Only thing needed is entering the license key and setting up the location of the installation along with specifying optional system name. Once the installation starts, you don't need any interaction with the installation process. Once the installation finishes, it logs in automatically to administrator.
Installing on non primary partition
The disk on which I wanted to install has one primary and three logical partitions. When I pointed the installer to install on a non primary partition which already had some files, the installer just marks the partition as UNVAILABLE along with other 2 logical partitions for install except the primary partition. So, I asked installer to format one of the logical partition and doing so allowed to install on that partition.
This means, if you have any non-primary partition, you need to ask installer to format it so that we can install the Vista OS on that partition. It is not the case with earlier XP, 2000 or 2003 installers.
Installer does not list unallocated space
Even though am not very sure if everyone else seen the same problem. The installer does not list any unallocated space as part of installation locations. It should provide as that of older Windows OS installers to install on a unallocated space by creating a partition
Installation Status, Fixed
In Beta1, we were not able to judge whether the installation is under process or hung as it does not display any status message after it reboots in the middle of installation. The only message it used to display is Completing installation…Do not restart your computer during this time; and with the same message it used to take ~20-40 minutes to complete.
In this build we can see a nice status bar at the bottom of the screen along with the above message.
Windows Security Center
The Windows Security Center is a new one in this build. It is a enhanced version of Windows Firewall from earlier Windows Operating system as shown in the side screenshot.




The security center keeps track of the following security items:






Firewall

Automatic Updating

Virus Protection

Spy-ware Protection

General Security






Along with the status, it also provides shortcuts to manage security settings for Windows Firewall, Internet Options and Automatic Updates.
Internet Explorer 7
By default the new IE loads without the old classic menu; instead it just has top navigation and search options. Surprisingly I could not see any button to go back to HOME page. The new additions are:


RSS icon has been changed; now you can see the icon with rss text in that.

Improved Favorites addition and navigation; now you can add all currently opened tabs to favorites

New greenish busy icon that appears when loading the page


With the background color for RSS and tabbed browsing options; it was bit hard to identify if there is any drop down box for any of the options as you can see in the screenshot. They should either change the background color of the tabbed browsing pane or the RSS/Favorites icons page or at least change the drop down color itself.
Bugs fixed in this version of IE
I can see all the bugs that I reported earlier were fixed in this release along with all most of them listed in Internet Explorer7 Bugs from channel9. Here is the status:




Status of Internet Explorer 7 Beta1 Bugs





Bug Description


Status




Screen flicker when editing anything from channel9


Fixed



Full screen mode address bar disappears after coming out of full-screen mode


Fixed



Misc lines pattern when browsing particular pages


Fixed



Window title name disappears in the print screen


Fixed


I just noticed a small glitch in the status bar where in new tab came and all the status messages were wrapped as shown in the screenshot. I think it could be because of explorer crash and restart.
If you know any other issues fixed in this release of CTP 2, post in the comments section and will update the list.
Windows Picture and Fax viewer
| | |
| --- | --- |
| This time you will notice a very surprising and interesting feature from Windows Picture viewer. It has a new play button and upon clicking on play it moves the pictures all around by scrolling by entering into full-screen mode. You really love the way it displays the picture in play mode. Just click on any image that you have and it will be by default opened with Windows image viewer and up on clicking on play (the big button in the middle of left and right navigation options at the bottom) you will see the magic. | |
Windows Digital Gallery
| | |
| --- | --- |
| Windows Digital Gallery is the new addition in programs group. By default it adds all the images from Users\user_name\Picture folder along with sub-folders. Nice feature from Vista team. It allows to import from other folders and organize them by tagging along with writing directly to a CD/DVD. I noticed no thumbnails displayed on the Digital Galley as shown in the screenshot. Could be a bug. | |
Windows Media Player 11
| | |
| --- | --- |
| As most of them spoke already, this build of Vista has Windows Media Player 11. Even though when you open the media player, the version it displays is still 10; but you can see version 11 from about box. | |
Windows Media Center
This is also a new addition in this build; and this is the feature that I loved than any other. It really rocks when displaying the movies. I tried couple of videos that I had and I can compare the quality immediately. You need to follow few steps in order to setup this initially. Check the media center screen shots below:
Playing video in high quality: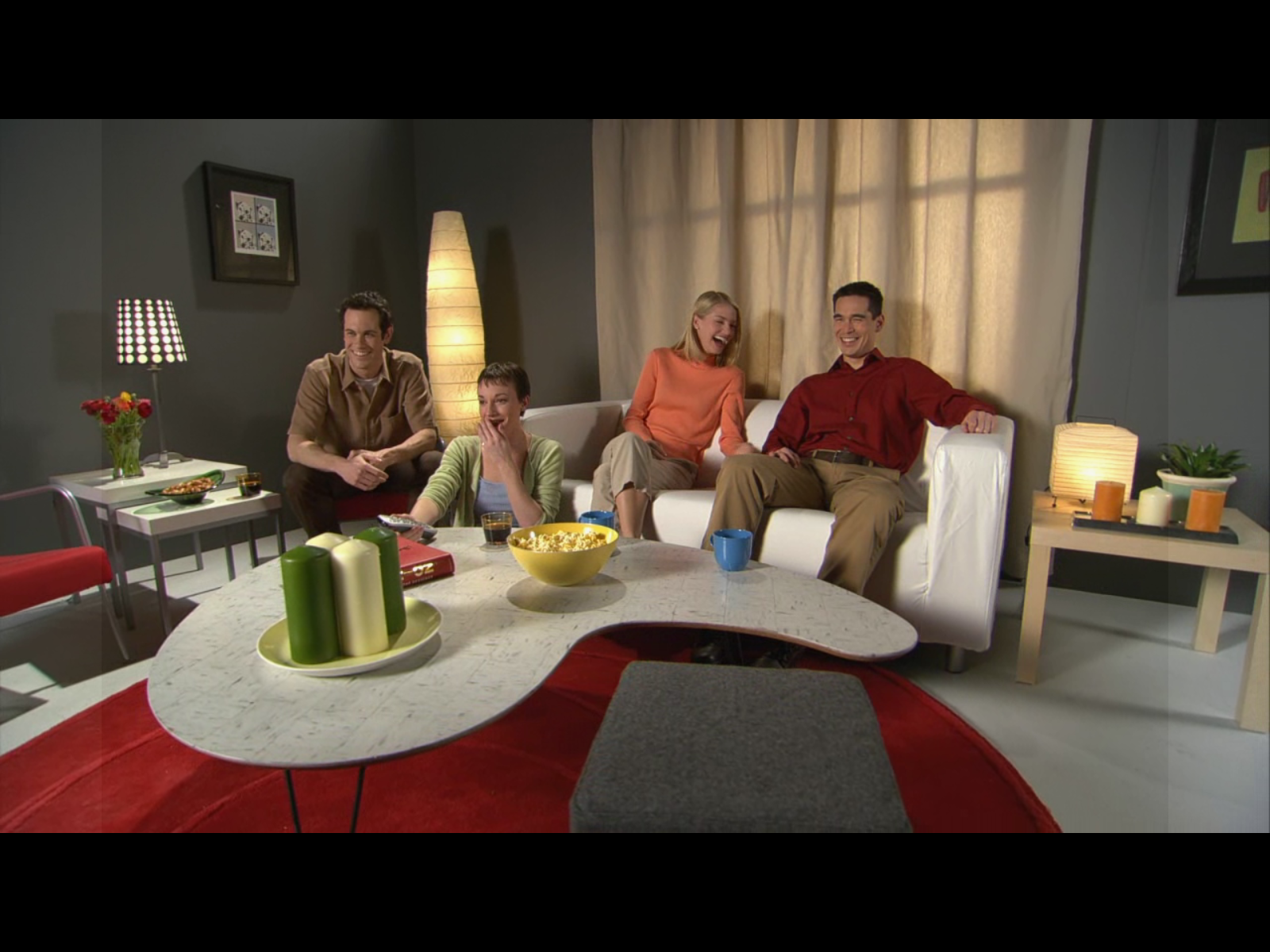 Control Panel Additions:
You can find the number of new entries in this Build of Vista from the Control Panel.
The new entries are:


Mobility Center: I could not able to see what it offers because when I try to open it, it does nothing and sometimes the explorer seemed to crash and after the crash it automatically restarts.

Network Center

Network Map: When I try to open it, it displayed a message 'The Network Map is disabled by your domain policy'

Peer-to-Peer: Does not open anything

Saved Networks. When I try to open this the explorer seemed to crash and restarts automatically.

Windows Parental Controls

System Tools Addition:
| | |
| --- | --- |
| You can find the following 3 new items under System tools when compared with XP/2003: | |
Sounds and Audio
By default, I could not see any entry in control panel for 'Sounds and Audio Devices' instead a new entry called 'Audio Devices and Sound Themes'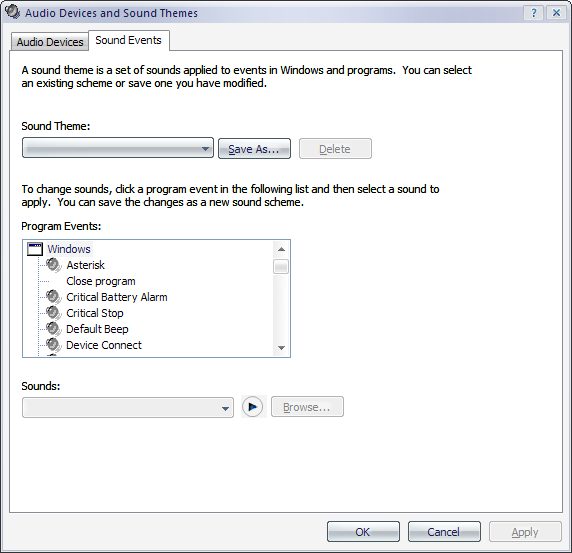 Also, I could not able to load the Sound Max driver by running the setup; But could able to install from Device Manager and pointing directly to inf file. Once it is installed; I could able to see the volume control icon in the system tray. You can see both the UI were redesigned to control the volume.
Internet Protocol
As discussed earlier; we can see all the network connection properties with two TCP/IP protocol versions 4 and 6.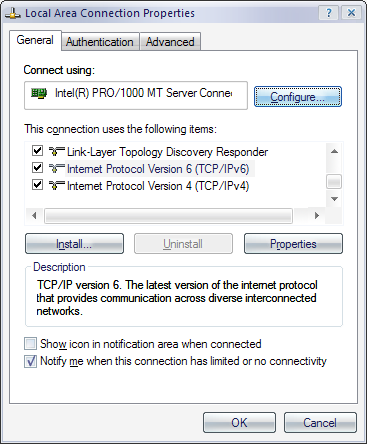 System Properties
In System Properties we can see the changes for General tab the way the OS information is displayed. Once you activate you copy, it also places a '
genuine windows
' logo in the same general tab as shown in the screenshot. I could not able to understand what the System Rating is, may be similar to what One-Care offers telling status of the system where it is in Fair, good or bad condition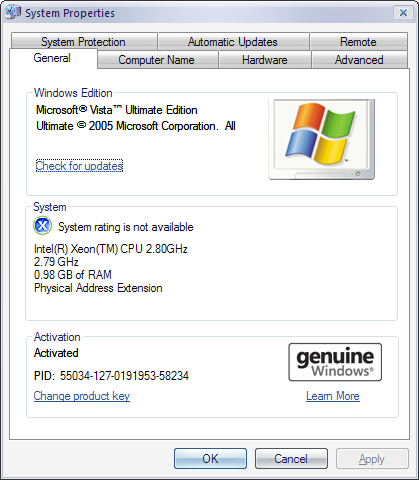 Virtual WiFi
I could not see the Virtual WiFi which is released few days back as part of the distribution. May be in coming CTPs we can expect it
AntiSpyware
As announced earlier that the AntiSpyware will be part of Vista, we don't see that in this distribution. May be in the coming CTPs we can expect it
Windows Event Viewer
The Event Log Viewer now presents overview and summary of events along with other useful information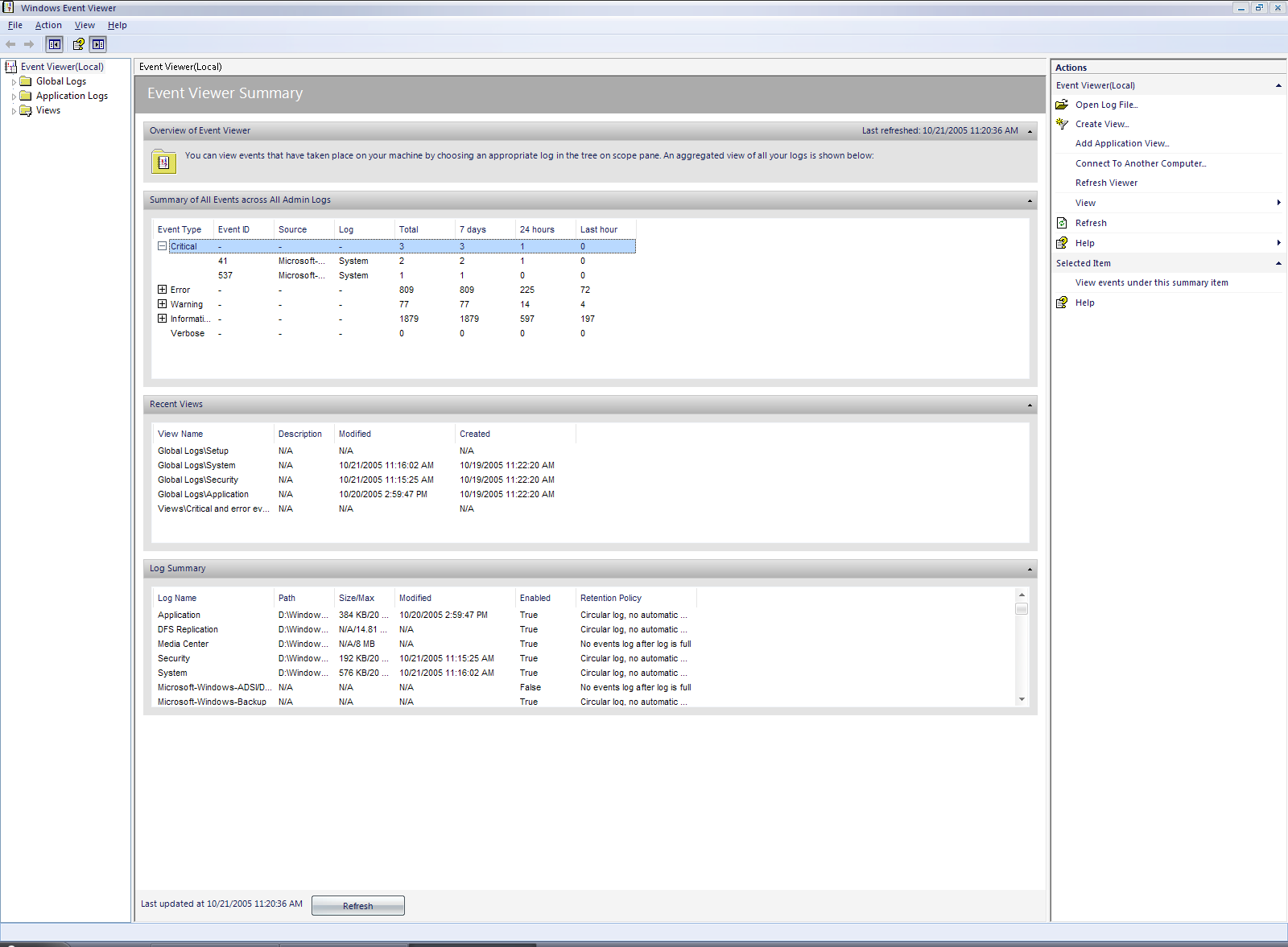 Ramblings


On existing Windows 2000 server, installing as dual-boot caused 2000 server not to boot. I needed to repair the boot sector in-order to boot back to 2000 server

The ATI FireGL driver is not loading or unable to install it which is downloaded from ATI which supports Vista; was working for Beta 1. Now even though it picks the driver when you point to inf file and finally tells failed to setup the driver. Only thing that works with FireGL is Microsoft FireGL LDDM Driver.

Most of the features which are not fully enabled causes Explorer to restart automatically

The installer setup for SoundMax driver does not work on Vista. Only option is to install the Driver from Device Manager by pointing to inf file.

Overall Satisfaction and Feedback
Overall I think Microsoft Windows Vista aka code name Longhorn will rock in coming days for sure. The OS is becoming more and more user friendly. I am not sure how comfortable this environment is for developers (Longhorn server should satisfy developers though); but for home end users this is the idle Operating System with all the features that you expect and you can not expect better than this bundled with all latest advanced technologies.
This is a quick review and will update this page in coming days once I go through each of the functionality.